The most compact, highly mobile unit of our diving compressor range. Due to its toughness and reliability the JUNIOR with more than 30.000 sold units has beco
me a global classic. The JUNIOR II's small size and refined compressor technology appeal especially to ambitious sports divers, who want a safe and reliable source of pure air, even in remote dive locations. The light weight and compact unit is portable by a single person and fits in every boot. This compact BAUER diving unit has been manufactured using top quality components, upholding BAUER's core characteristics of reliability and safety. The even more compact design and a variety of smart improvements make the JUNIOR II an even better value for money for committed sports divers. The new JUNIOR II is a product based on more than 60 years of experience and strict BAUER Quality Management according to DIN EN ISO 9001.
COMPACT LINE – The ultra-compact transportable breathing air compressors, made in Germany
Compact dimensions: Very light in weight
Versatile application range: For sport diving, fire crews, shipping, medical engineering, paintball, motor sports … to name but a few examples
With unique B-TIMER mini-computer to monitor cartridge saturation: Reliable, easy to install, incredibly durable
Our mobile compressors are right at the cutting edge of technology for transportable breathing air compressors.
The JUNIOR II and OCEANUS COMPACT LINE compressor units are characterised by their ultra-compact dimensions and very low weight.
Our transportable high-pressure compressors are suitable for use in a wide and varied application range: by private divers and in small diving centres, for installation on sailing yachts and cruise ships or for straightforward installation in fire engines or fire stations.
Put your trust in BAUER KOMPRESSOREN and reap the benefits of the outstanding quality and safety offered by the world market leader for breathing air.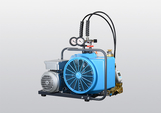 JUNIOR II, 100 l/min
Durability, reliability, versatility in application and compact flexibility have made the JUNIOR II a global classic and genuine best seller with more than 100,000 units sold the world over.Read more
JUNIOR II – The compact classic among mobile breathing air compressors
The world's best seller: With more than 100,000 units around the globe
BAUER's most compact mobile compressor: With compact dimensions and advanced technology
Extensive range of applications: For sport divers, shipping, respiratory applications, paintball, sport shooting and many more
Really easy to transport: Outstandingly light in weight and easy to handle
Durability, reliability, versatility in application and compact flexibility have made the JUNIOR II a global classic and genuine best seller with more than 100,000 units sold the world over.
Dimensions on a very small scale and sophisticated technology make our most compact mobile breathing air compressor ideal for shipping, as a diving compressor, in respiratory applications, and as a compressor for paintball and sport shooting.
In short, it is a must for anyone looking for absolutely clean and safe breathing air for use in mobile applications.
This quiet and compact unit can be carried easily by a single person and will fit in almost any car boot.
JUNIOR II compressor block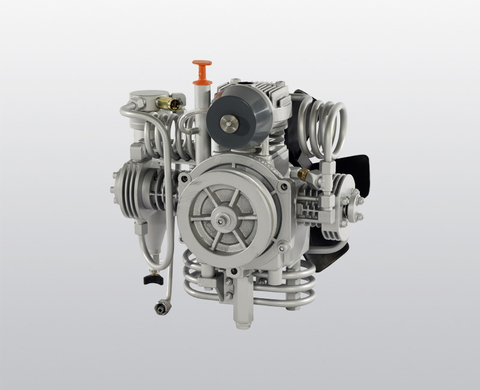 The high-pressure compressor block is the "beating heart" of the JUNIOR compressor. Epitomising reliability and having proven its worth in practice for decades, more than 100,000 units have been sold the world over.
Plateau-honed cylinders and a perfect fit cooling system enable the compressor block to be used in a wide variety of application ranges.
The easily accessible oil filler neck and oil drain make oil changes easy. An oil dipstick is provided so that the oil level can be checked. Long oil change intervals and wear-resistant piston rings reduce running costs to an absolute minimum.
P 21 filter system
When used in conjunction with original BAUER filter cartridges, the P 21 filter system with integrated oil and water separator and pressure retention check valve can be relied upon for breathing air treatment conforming to DIN EN 12021¹. A type-tested and sealed final pressure safety valve enables particularly high levels of operational safety to be achieved. 140 m³ of air can be treated.
¹ If the units are maintained and installed correctly as described in the operating instructions or user manual and if the concentration of CO2 in the intake air does not exceed the values specified in the applicable standard for breathing air.
B-TIMER filter cartridge monitoring